Undergraduate Awards
Mathematics Awards Spring 2020
Congratulations, Allegra Martino and Morgan Makhina, recipients of our Mathematics Awards for 2020! Both received awards in recognition of their accomplishments in the Pure Mathematics concentration of the Mathematics major. We are honored to celebrate their hard work and to be able to present them with an award.
They were selected by Mathematics faculty as recipients of this year's J.W.T. Youngs Memorial Undergraduate Award in Mathematics. The family and friends of Professor Youngs, a former professor at UCSC, established the award after he tragically passed away in 1970. Professor Youngs was a member of the Mathematics Department and a Fellow of Cowell College. The endowment was established to honor his memory by supporting two annual prizes, one for an outstanding student of Mathematics enrolled in Cowell College, and one for an outstanding student of Mathematics enrolled anywhere on the Santa Cruz campus. The Youngs Award is intended to encourage and sustain awareness of the beauty of mathematics by recognizing those who, as Youngs did, "reveal the grace inherent in the discipline, independent of its application to other fields"; "the excitement and elegance possible in mathematics."
We wish them all success in their future endeavors!
Youngs Awards 2020
Allegra Martino
Hi! I am Allegra Martino, a fourth year Pure Mathematics student soon to graduate from UCSC. My favorite topics I've learned about during my time here include the classification of finite groups, algebraic number theory, and Galois theory. My love for mathematics goes beyond the classroom; I enjoy crocheting topological surfaces and knots, another skill for which I can thank UCSC.
I am very thankful to all of the professors who have taught me mathematics during my time here, and all those who have done math with me. I especially want to thank Prof. Boltje, Prof. Cooperstein, Prof. Ehrhardt, Prof. Suh, Natalya Jackson, and Nick Walters for encouraging and supporting me in my career. I hope to pursue a PhD in pure math and do research in algebra in the future. 
Morgan Makhina
Hello, my name is Morgan Makhina. In a former life I worked as a consulting utility forester in the Yosemite area. Although the job was by no means dull, my last two years as a student at UCSC have been even more exciting.
As quite a few other people, I initially decided to study mathematics because of its applications to physics; however, over time I've found certain areas of math interesting in their own right. While it's hard to pick favorites from the many wonderful courses I've taken here, I have particularly enjoyed topology, classical geometry, and linear algebra (the latter two of which I hope to teach someday).
Perhaps what I enjoy most in math is discovering visual/spatial approaches to abstract problems. It strikes me that while humans are not especially good at, say, mental arithmetic or solving systems of linear equations, a long process of evolution has made us phenomenal at far more complicated tasks such as recognizing objects and navigating around obstacles. An apt visualization lets us tap into that powerful computing resource to solve the problems we find difficult.
Aside from the academics at UCSC, I also appreciate this school for its cultural diversity and natural campus setting. For these reasons I plan to remain here as a graduate student.
Youngs Awards 2019
Sandra Nair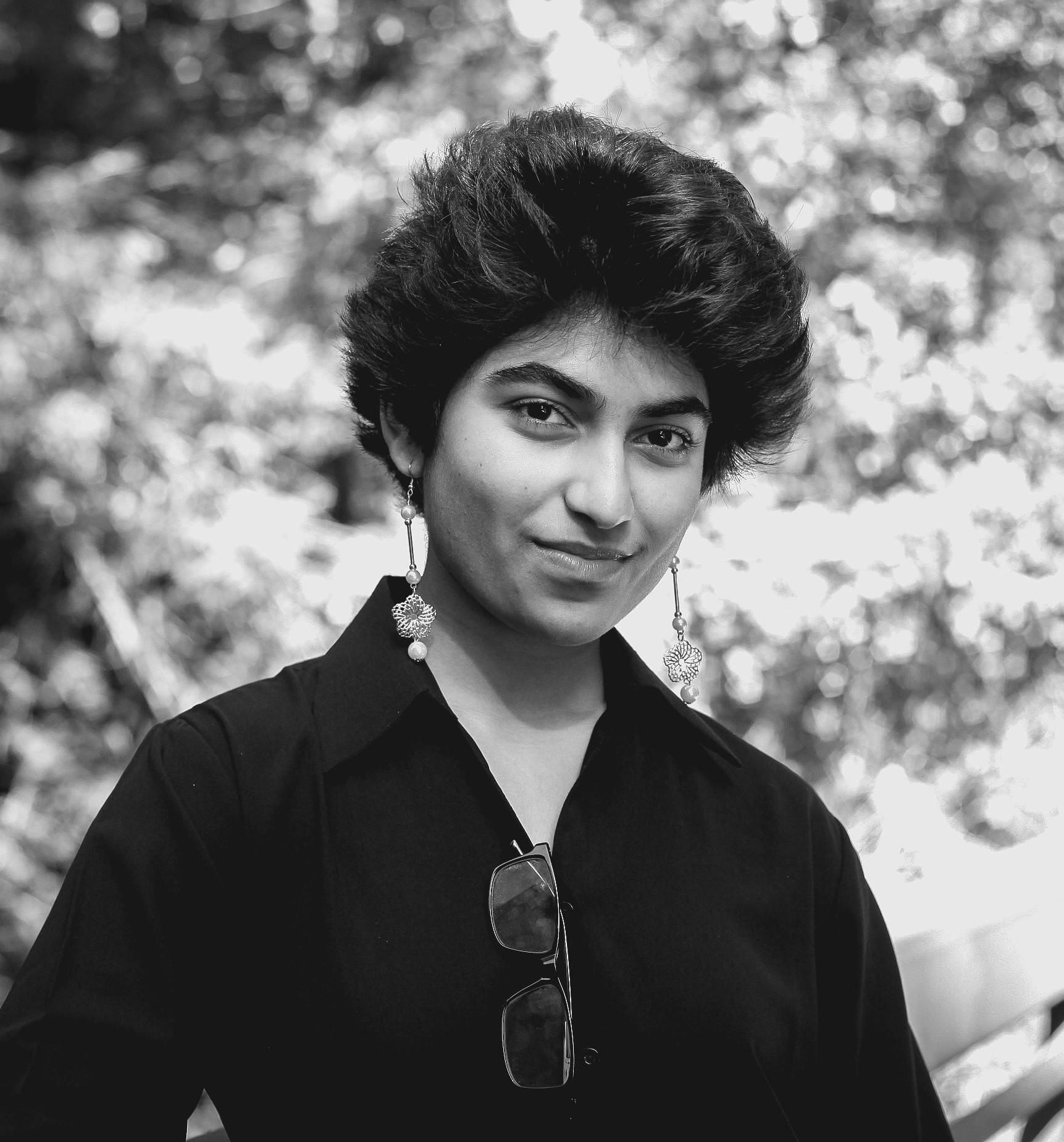 My name is Sandra Nair. I am an international student from India, currently in the third year of my double major in Pure Mathematics and Physics. I am constantly amazed by the intersection of these two incredible subjects, as found in string theory and quantum field theory. It is my ardent faith that a final unified theory of mathematics is indistinguishable from the physics counterpart, as Nature has a way of projecting the most fascinating objects into reality. I aim to be a mathematical physicist who studies and explores these abstract territories for a living. The only way for us to make progress in the fundamental sciences is through the influx of ideas and new approaches— both of which are directly proportional to the background of the next generation of scientists. Therefore, it is our duty to encourage and promote underrepresented minorities in STEM— women, people of color, LGBTQIA+ folks, differently abled persons etc. to name a few categories. It is my hope that the recognition brought forth by this award would lead to a greater diversity in the people considering mathematics as a career. We need more people like Noether, Ramanujan, Turing and Hawking to get to the next level. We need scientists who are in touch with their humanity if our kind is to survive the next millennium.

Shane Kennerly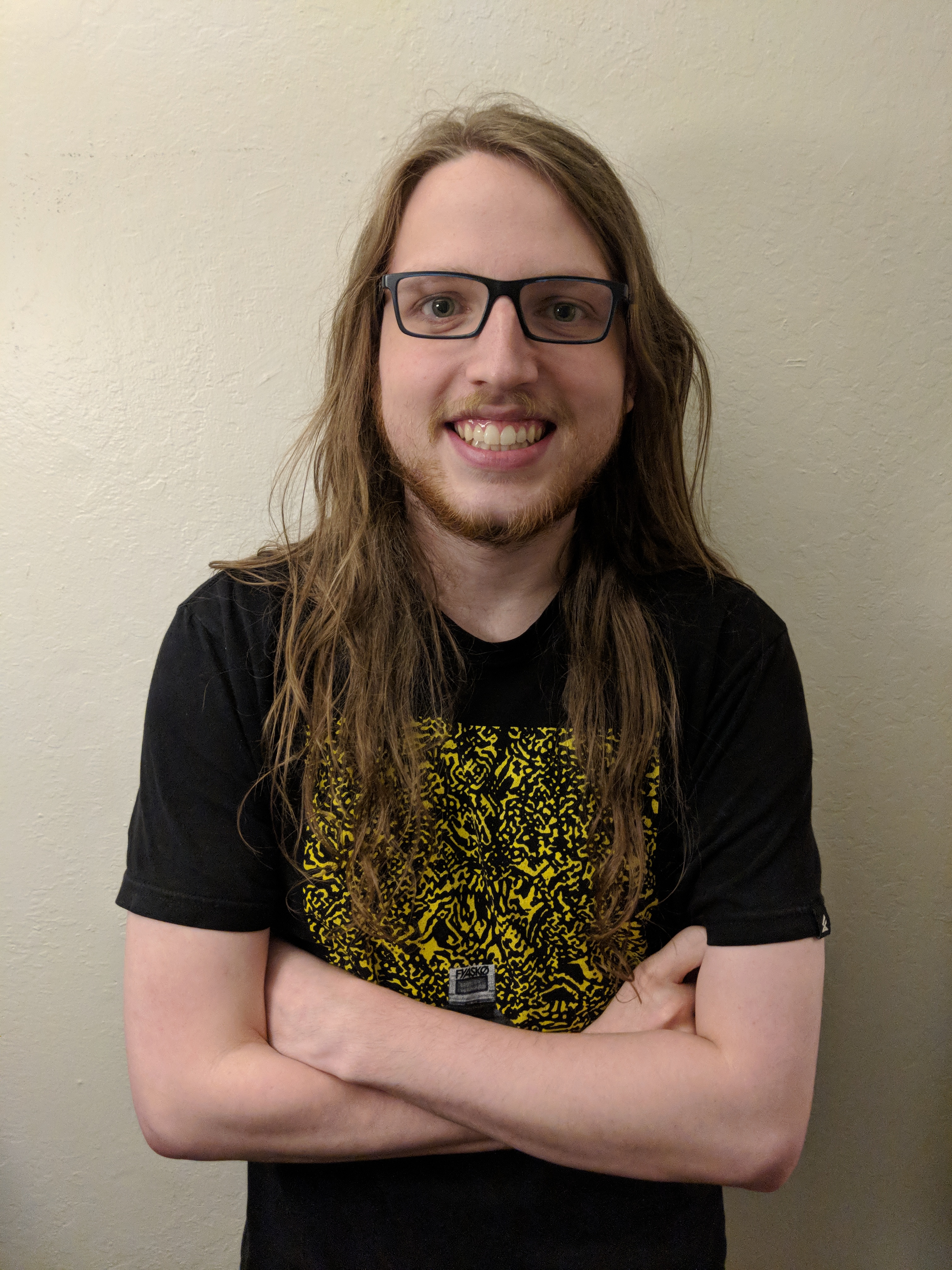 Hi, I'm Shane Kennerly, and I'm currently finishing my undergraduate degrees in Pure Mathematics and Computer Science here at UCSC. I had originally intended to apply to the university as a proposed physics major, but after taking a couple more math-heavy courses at the end of high school, I realized that what I really liked about physics was the underlying mathematics. Throughout my four years of studying math here, my love for the subject has only grown as I've been able to engage more deeply in these concepts through my coursework. I am honored to receive this award, and would like to thank Prof. Junecue Suh, Prof. Robert Boltje, and Prof. Ed Karasiewicz, as well as the rest of the Mathematics Department and the professors I've had for giving me these opportunities to learn and helping me along the way. I have thoroughly enjoyed these past four years here, and am extremely grateful for the friends I've made, the things I've learned, and the experiences I've had, both academic and extracurricular. I plan to begin my Master's in Pure Mathematics here this coming fall, and will hopefully pursue a Ph.D. in the future. 
Youngs Awards 2018
Alyssa Soderberg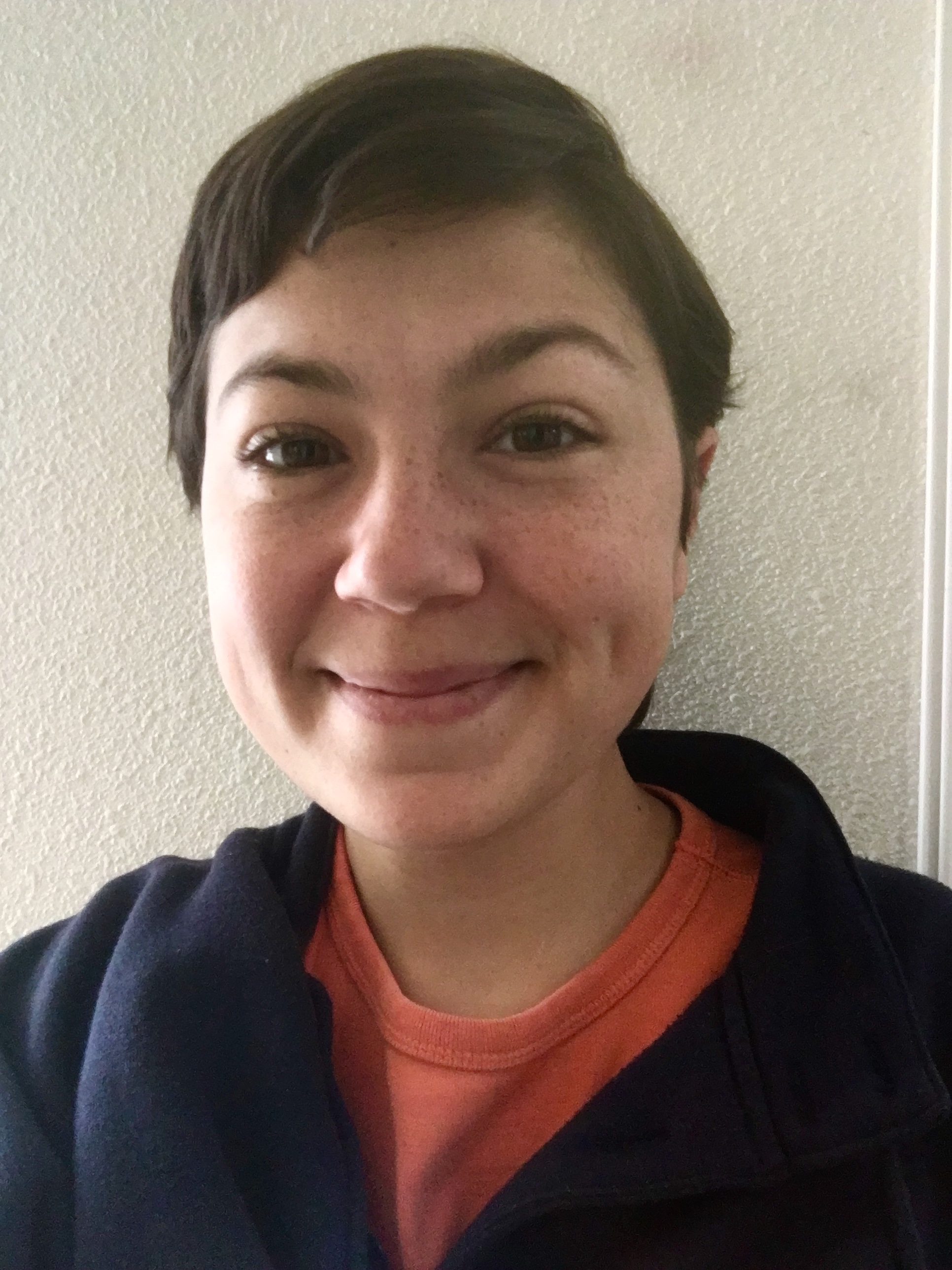 Hi, my name is Alyssa Soderberg and I am about to graduate with my undergraduate degree in Pure Mathematics with a minor in Theater Arts, Dance. I fell in love with mathematics during my first year here at UCSC, when I was introduced to calculus. I have always been an artist, and a learning disability student, so I never imagined that I would find myself so passionate about this field of study. As I continued to take more classes, I fell deeply for the challenge, beauty, and delicate intricacy of theory.

I am also a choreographer, performer, visual artist, dance teacher, and graphic designer. I hope to integrate and research pure mathematics through choreography in the future. I may go on to graduate studies, but I hope to pursue my career as a performer and choreographer first. After I graduate, I am going to Paris with nine of my dance peers to attend a performance conference and choreography exchange at the Centre National de la Danse.

I feel honored to receive this award, and want to give special thanks to Professor Richard Mitchell, Junecue Suh, Bob Hingtgen, and my fellow womxn in the department who have supported me through my undergrad education.

Timofey Peshin
I'm a Pure Mathematics and Computer Science major at UCSC. When I had just arrived at UCSC, I knew I would pursue the Computer Science major, but I also wanted to double-major in either Computer Engineering or Pure Mathematics. The decision became trivial once I took my first undergraduate math courses—Group Theory with Prof. Junecue Suh and Real Analysis with Prof. Francois Monard—in the winter quarter of my freshman year. During that quarter, I spent most of my free time either going through problems in Dummit & Foote or reading through Strichartz's The Way of Analysis. I regularly use the ways of thinking and problem-solving that I discovered during those courses. Although I had always enjoyed math, these courses and professors created in me a new appreciation for it. Since then, I have only had great experiences with my math classes. At the end of every quarter, I could come up with a long list of problems that I could understand and solve that I could not have approached before. After graduation, I would like to go to a graduate program in mathematics.
Palais Award 2018
The Stephen M. Palais Memorial Undergraduate Research Award was created by his family in memory of former student, Stephen Palais. This award is jointly administered by the Department of Mathematics and the Department of MCD Biology. It recognizes meritorious undergraduate research.
For 2018, the recipient is
Derek Mather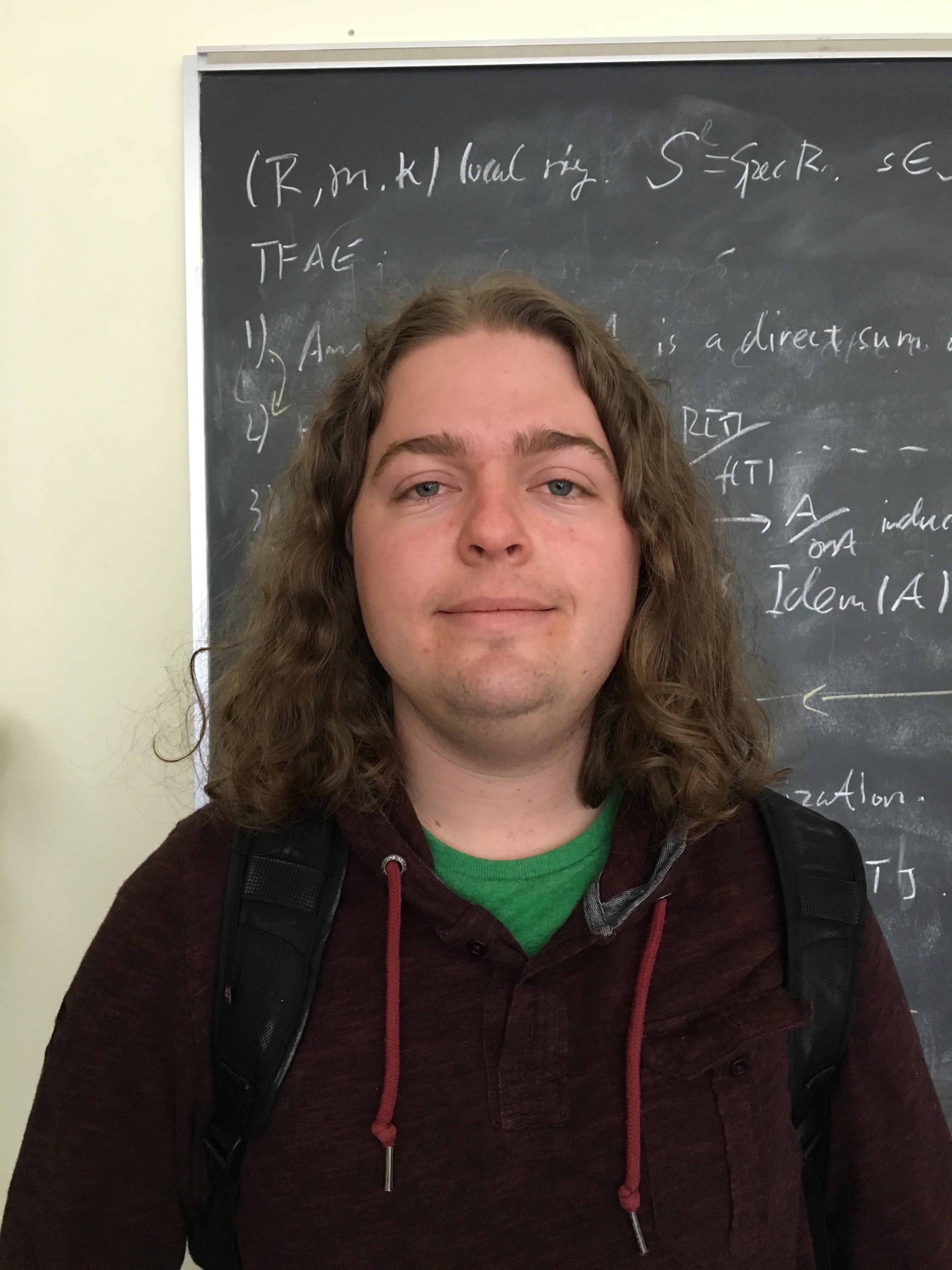 My name is Derek Mather and I am a Pure Mathematics major at UCSC. I was born and raised in Santa Cruz, so going to UCSC was a very natural choice. Not to mention that my grandfather, Richard Mather was a founding professor at UCSC when it was just a few trailers. With the exception of taking a few Cabrillo classes in high school, I was homeschooled all of K-12. Most of my time as a homeschool student was spent playing music and tennis. I first learned about Mathematics from Khan Academy.That sparked my interest in Mathematics and Science. After graduating from high school, I spent a few years at Cabrillo and then applied to UCSC as an Astrophysics major. I discovered that it was the Mathematical aspects of Astrophysics that most interested me, so I switched majors upon transferring to UCSC. I really enjoyed my classes and professors at UCSC. I especially appreciated the camaraderie of my classmates. My brother went to UC Berkeley, and I heard about what a competitive environment it is there in the undergraduate program. There was none of that at UCSC and the small class sizes made it easy to get to know my professors and interact with classmates. I am starting the Master's program in the fall, and my goal is to continue on for a PhD.
Youngs Awards 2017
Shay Gilpin and another student were selected by Mathematics faculty as recipients of this year's J.W.T. Youngs Memorial Undergraduate Award in Mathematics.  
Short Bio From Shay
My name is Shay Gilpin and I am just finishing my fourth year at UCSC with a Pure Mathematics major and Chemistry minor. I'm from Boulder, Colorado but have always had a love for the ocean, and UCSC provided the best of both worlds. Mathematics was a subject in which I had always excelled, but early on it was Chemistry that I found interesting. Upon entering my freshman year here I had no intention of studying math; Math 23A with Prof. Richard Mitchell revealed the beauty of math that I had never seen before, and it changed me forever. It was then that my interests turned towards mathematics and led me to where I am today.
During these past two years I have been an active member of Slugs United by Mathematics (SUM) and am currently the president of SUM for the 2016-17 academic year. After graduation I will be continuing an internship at the University Corporation of Atmospheric Research (UCAR) in Boulder, CO under the COSMIC group and have hopes of continuing my academic career in either pure or applied mathematics in the near future.
Youngs Awards 2016
Jackson Vanover
           Jackson Vanover is wrapping up his last quarter at UCSC as a Mathematics major and trying to make the most of the end of his college career. He originally came to the Santa Cruz mountains inspired by the breathtaking location; there is no campus more beautiful than this one! Like most who settled into a mathematics track, he was inspired by a particularly spectacular calculus teacher in high school who showed him the inherent beauty of recognizing patterns and solving puzzles.
           In keeping with the spirit imparted on him by a strong mathematics education, he will be embarking on a path towards teaching following graduation. In the fall, he will be assuming the full-time position of Assistant Director and Tutor at Sage Educators in Marin County. With any spare-time not spent at work, he'll be composing, recording, and performing his own original music in the Bay Area. He'd like to express a huge thank-you to the Mathematics Department at UCSC for the experiences he's had here and for the honor of the J.W.T. Youngs Memorial Undergraduate Award.
Michael Kraut
           My name is Michael Kraut and I'm a 4th year pure math major. I think I've always been interested in logical and quantitative ideas, but I really discovered my love for math in middle school. I had amazing teachers and I was always the class show-off who had his hand up first. I stayed in advanced math classes through high school and finished AP Calculus, although it wasn't until I came to UCSC that I decided that I wanted to pursue a career in mathematics. Probably the most influential factor in my decision was the Honors Calculus course which I had the privilege of taking with Professor Richard Mitchell.
           Since then I have taken many upper division math classes and even a few graduate courses. I have worked as a tutor with Learning Support Services and this year I tutored a few upper and lower division courses including Honor's Calculus. This summer I will be participating in an REU program at SUNY Potsdam in New York to study Algebraic Graph Theory, and next year I will be studying abroad in Sweden. I plan to take some advanced courses there and begin applying for graduate school. I'm not entirely sure yet whether I want to stay in academia or even which subject I want to study, although I think my experiences over the next year will help me determine what I want to do.
Youngs Awards 2015
Jackson Hsu and Ernesto Gallegos were selected by Mathematics faculty as recipients of 2015's 
J.W.T. Youngs Memorial Undergraduate Award in Mathematics
.