Association for Women in Mathematics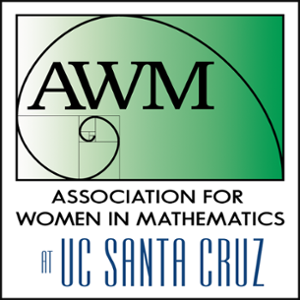 Hi UCSC Math Community,
We are happy to announce our own Association for Women in Mathematics Chapter at UC Santa Cruz!
What is AWM?
AWM stands for Association for Women in Mathematics and is an organization for mathematicians around the world. Have you wanted to study mathematics, but you aren't sure if you belong? Have you ever felt like you do not fit the stereotypical mold of a mathematician? Here at UC Santa Cruz, we want to challenge the status quo. We desire to enhance the mathematical community and encourage participation in mathematics by underrepresented and history excluded individuals. Who says that you have to look or act a certain way in order to be a mathematician?
To accomplish this task, we will be hosting coffee hours, a hobby hour, and we are in the process of creating a mentoring program for next quarter. Coffee hours are a time to gather students together and to discuss topics in mathematics that are often overlooked and allow us to enrich our community. The goal of the hobby hour is to showcase the diverse hobbies of mathematicians. Lastly, the mentoring program will be a first for the math department and we hope that it will encourage us to find inspiration among the diverse members of our community.
Frankly, there is not enough room here for us to thoroughly explain all of our ideas and we know that this is an incomplete list. (It's missing your ideas!) We hope that you will be encouraged to participate in AWM and uplift the mathematical community by helping us fill our missing piece, you!
How to be a member?
Since we are a registered student chapter of the AWM, you can get a complimentary AWM membership! Follow the steps given below:
Head to Join AWM.
Scroll down to AWM Student Chapter Membership and click Join.
Enter your UCSC email id and fill the required registrations details.
Do you have more ideas on how we can positively impact the Math department at UCSC? Send us an email at awm@ucsc.edu.
Check out our Hobby Hour events !  
[follow this link to join the event]
Meeting ID: 942 9641 2080
Passcode: 305205
May 11 @ 4pm-5pm
Crafting with Cheyenne
Anyone with paper, glue, and string or ribbon can craft along with grad student Cheyenne Dowd.
May 25 @ 4pm-5pm
Yoga with Alex
We look forward to hearing from you!!!
Best,
Jennifer Guerrero
Chapter President.